Our children are supporting a child in Peru
The children of the church made "banks" to collect their money and are doing extra chores to support a child through Compassion International.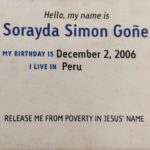 Sorayda Simon is ten years old and lives in the mountainous community of Comunidad Aparicio Pomares. Through the efforts of our children, Sorayda is provided with medical checkups, health and hygiene education, birthday celebrations, tutoring, Bible teaching and academic support. They are learning about compassion and charity and how to show God's love to others.